September 4, 2017 | Winery Press | Peachy Canyon Marketing
From Sex and Drugs Education to Zinfandel: The Peachy Canyon Story
One of our very first loves in wine was Zinfandel — us and a huge swath of American wine drinkers. This was long before people started affixing the descriptor "red" to it. John and I thought that Zinfandel, uniquely, offered a bona fide vision of America in a bottle: confident, spicy and vibrant. When it was good, it could be bold yet elegant or easy and exuberant. While there were many fine producers, some of our favorites began with R: Rafanelli, Ravenswood, Ridge and Rosenblum.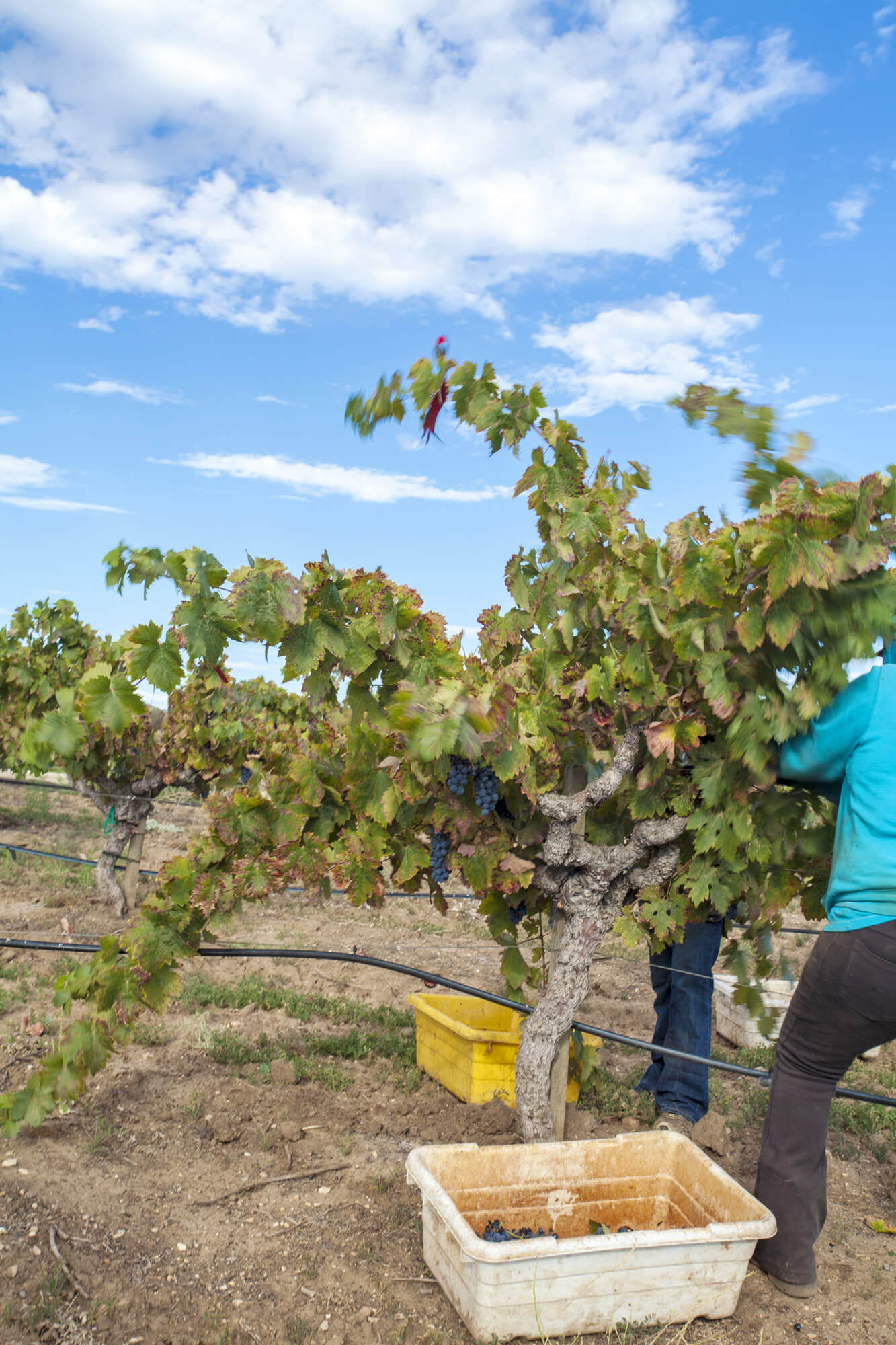 Yep, you know what followed. Decades before the principle of balanced wines became a thing, Zinfandel went askew. Popularity bred greed, with stupidity quick on its heels. Some winemakers began pumping out wines with ever-soaring alcohol and sugar levels. Undrinkable alone, they also wouldn't pair with any food. California wasn't alone in this malpractice. Some Italian winemakers did the same thing with Primitivo, which is genetically identical to Zinfandel, which originally hailed from Croatia. Eventually Zinfandel sales stagnated and they haven't bounced back yet to those glory-day levels. Most Zinfandel drunk today is White Zinfandel, according to the Wine Institute, and I'm grateful to that wine because its popularity spared many old Zinfandel vines. However, there continue to be bright signs of life here and there for, OK, the red.
One example is the Peachy Canyon Westside Zinfandel, the 2014 and 2015, jubilant, proud-to-be-Zinfandel, old-school Zinfandels, $21. Zin specialist Peachy Canyon Winery is one of the oldest family-owned wineries in Paso Robles, in San Luis Obispo County, California, not far from the Pacific Ocean. It's located on the west side of Highway 46, a popular stretch for wineries.
Some wines, like the Kalin Cellars I just wrote about, are profound. These aren't. They're just makes-you-smile crowd-pleasers, surprisingly elegant. It had been a long time since we'd had a Zinfandel from Peachy Canyon and they were like running into old friends. So last week I called Doug Beckett, who with his wife, Nancy, founded the winery in 1988, when there were fewer than a dozen wineries in Paso Robles, which now has more than 250.
---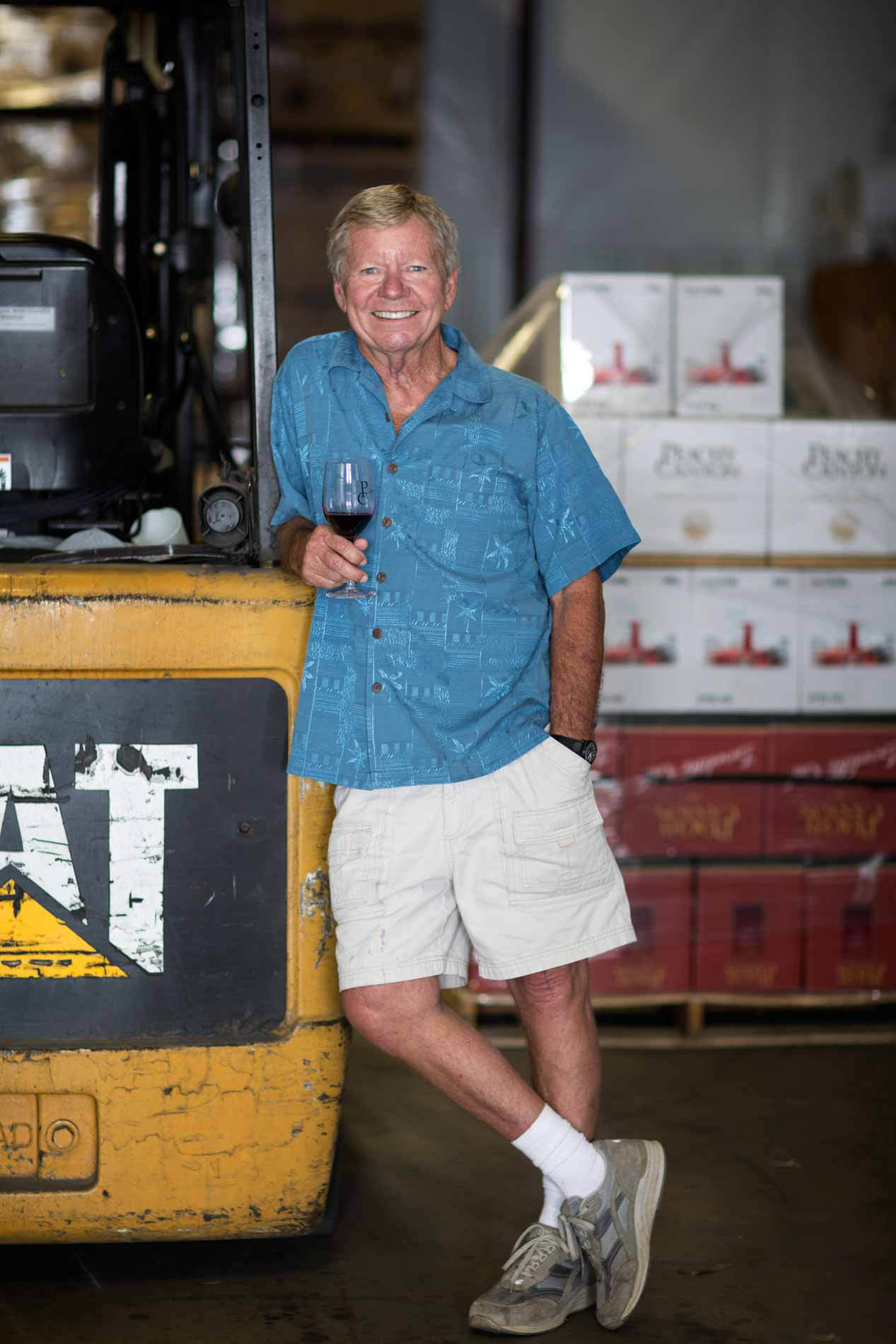 "We're fortunate that we started with a varietal and stayed with it. It's the first wine I learned to make and I love it," Beckett, 71 (photo right), told me. "We never went to high alcohol or residual sugar. Some did that and it put them out of the Zinfandel business when that lost favor and people were going to different varietals.
"Zinfandel is regaining its place in the wine hierarchy, so to speak, so we're really excited," he added, looking forward to the winery's 30th anniversary. (The Grape Collective's Christopher Barnes wrote about the region last year). I wrote about Halter Ranch in June, and Adelaida Cellars in West Paso Robles in 2014.
Peachy Canyon Winery, which has 175 acres, 100 of which are sustainably grown vineyards, produces around 53,000 cases total of 25 different wines — "that's terrible," Beckett said laughing like a kid in a candy shop. The 2014 and 2015 Westside Zinfandels are the only ones I've tasted recently, but it also makes, among other things, Rhône varietals, Bordeaux blends, rosé (a Zinfandel/Grenache blend) and a Zinfandel "port." Some have funny names like Ms Behave, which is a Malbec. A second Ms Behave, soon to be released, is a Petit Verdot. The winery has just made its first wine from UC-Davis' collection of heritage vines and clones.
Zinfandel is 90% of its business, Beckett explained, and Peachy Canyon's winemaker, Robert Henson, who joined the company in 2015, makes nine different ones, including six vineyard-designates. The 2014, from the winery's estate vineyards, is 77% Zinfandel, 11% Petite Sirah, 7% Alicante Bouschet, 3% Tannat, and 2% Syrah. The grapes were hand-picked, fermented in stainless steel tanks until dry, and then racked into barrels and aged for 16 months in oak barrels, about 30% of them new, according to the winery. The 2014 had a "Bordeaux-like structure, elegant, earthy, with black cherry tastes," we wrote in our notes. "Fascinating and different, surprising softness." The 2015 has 79% Zinfandel, 8% Petite Sirah, 6% Alicante Bouschet, and 7% Primitivo, which differs from Zinfandel in, among other things, cluster size. We found the 2015 "spicier and leaner than the 2014, nicely restrained. Made by a confident hand."
In 1991 and 1992, the Westside Zinfandel landed on Wine Spectator's Top 100 Wines lists, Beckett told me, adding, "Yep, for a time this little guy in Paso Robles smoked Ravenswood and Rosenblum."
We looked at the 2014's label and were surprised that it was 14.8% alcohol. It doesn't taste like that much alcohol, I told Beckett. The 2015 is 14.5%.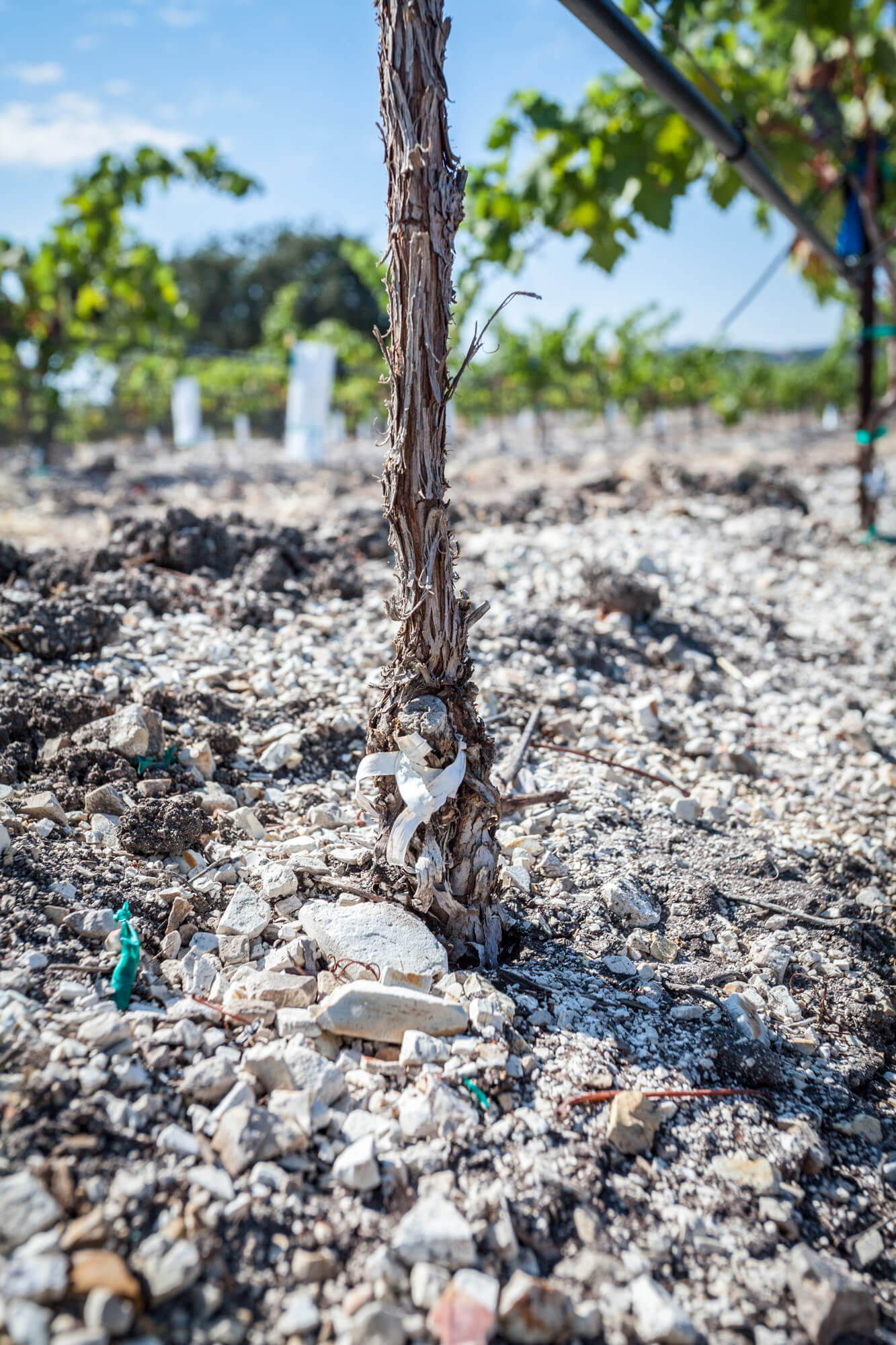 "I know. The Paso fruit really carries the alcohol. We try to keep in the low 14. We don't really want to venture out much over 15. We've been very fortunate that the one characteristic that, I think, Paso has over everybody else in California is the big, rich fruit that can carry the alcohol without going so far as to have a port or to truly mask the fruit," Beckett said.
"It's more about that fruit-forward taste and Paso does it. We may not get the best colors, we always use a little Petite [Sirah], but as far as what's good and what Zinfandel is all about, I think Paso is truly putting its best foot forward."
OK, if Beckett sounds like a talking promotional brochure for Paso Robles or a teacher trying to make a point, it's because he is an unabashed booster of the region and a former teacher. Beckett and Nancy, a former dancer, moved from San Diego in 1982 to Paso Robles to raise their sons, Josh and Jake, 43 and 41 respectively, who now have families of their own. Josh for a time was Peachy Canyon's head winemaker and Jake managed the vineyards and sales. In 2004, they stepped out and founded Chronic Cellars, which I wrote about last November. About four years ago, they sold Chronic Cellars but stayed on there. In about a year, their dad told me, they'll return to Peachy Canyon in consulting roles alongside current staff.
The Paso Robles AVA is a huge area. Years ago, Beckett wrote a proposal to recognize the distinctive character of the soil and climate on the West Side of Highway 46, but it was defeated. Paso Robles now has 11 sub-regions but only Peachy Canyon Winery has Westside on its label, Beckett said.
He has a master's degree in business administration, and in the early 1970s, after becoming a teacher, he wrote the Family Life Education Program for junior high school for the state of California, he told me. That led to teaching a course that covered communication skills, sex education and drug abuse.
Eventually, wanting more space for the boys, the Becketts bought a walnut farm in Paso Robles. One day, a guy who was helping them harvest walnuts invited them to "a barbecue and a bottling," Beckett told me. Pat Wheeler, a member of Wines and Steins, an organization that helps home brewers and winemakers, was there. Wheeler had been making Zinfandel in his garage. "I wound up saying I'd love to give this a try," Beckett told me. "So I convinced Pat that if he taught me to make wine, I would teach him the business side." He has owned several successful businesses, he said.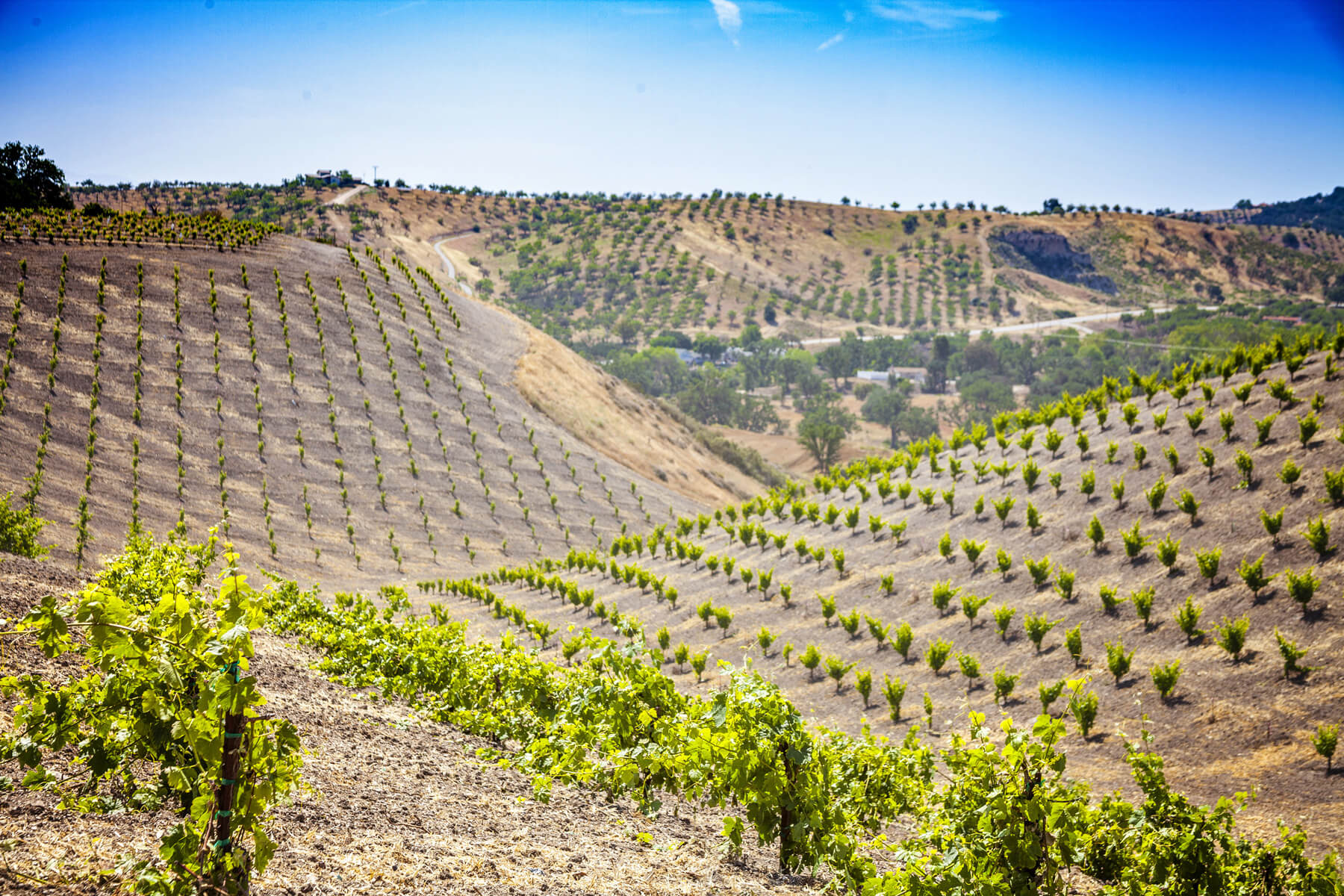 They named their garage winery Tobias Winery after Wheeler's son, Toby. The name, Tobias Winery, is now used by a venture in Napa. Beckett and Wheeler had the good fortune to get terrific Zinfandel fruit for their first wine together from the Dusi family, grape growers since the 1920s. The men's first Zinfandel, 100 cases, was such a huge hit that they got some press, Beckett said.
In 1987, Wheeler moved on and the Becketts bonded Peachy Canyon Winery the following year. It has weathered recessions and seen Zinfandel's popularity plummet, but, like him, it's "still plugging away."
"We started as a home winemaker so it took a while for people to accept us as winemakers without a formal [wine-making] education," Beckett told me. "But Peachy now, almost 30 years later, has convinced everybody that we know what we're doing and we're OK. Hopefully we'll be around at least for another 30 years," he added. "I would love it if the grandchildren got involved."
---
Dorothy J. Gaiter conceived and wrote The Wall Street Journal's wine column, "Tastings," from 1998 to 2010 with her husband, John Brecher. She has been tasting and studying wine since 1973. She has had a distinguished career in journalism as a reporter, editor, columnist and editorial writer at The Miami Herald and The New York Times as well as at The Journal. Dottie and John are well-known from their many television appearances, especially on Martha Stewart's show, and as the creators of the annual "Open That Bottle Night" celebration of wine and friendship. The first bottle they shared was André Cold Duck.
Dorothy Gaiter banner art at top by Piers Parlett, republished from original story on Grape Collective. Portrait of Doug Beckett courtesy The Winemakers of Paso Robles book by authors/photographers Julie Perez, George Taber, and Paul Hodgins.