February 26, 2016 | Winery Blog, Winery Press | Ryan Lopez
3 Gold Medals at The Toast of the Coast Wine Competition
THE BEST WINES OF THE U.S.A. AND MEXICO COMPETE FOR TOP AWARDS IN THE TOAST OF THE COAST WINE COMPETITION
Peachy Canyon Winery Wins Three Gold Medals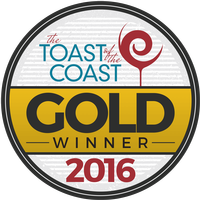 Twenty four judges sipped 694 wine entries on February 20-21, 2016, at the Del Mar Fairgrounds for the annual The Toast of the Coast Wine Competition. Peachy Canyon Winery recently was awarded three gold medals as a result.
Gold Medal & 93pts - 2013 Bailey Zinfandel
Gold Medal & 90pts - 2014 "Concrete Blanc" Viognier
Gold Medal & 90pts - 2012 Merlot Reserve
Visit thetoastofthecoast.com for full results and more information about the 2016 San Diego County Fair.