May 31, 2018 | Winery Blog | Michelle Zaludek
Meet Drew Phillips
The smell of fermenting juice clings to the air in Peachy Canyon's lab, filled with rows of neatly arranged beakers, glasses, testing kits. Behind a corner desk sits Drew Phillips, the winery's new enologist.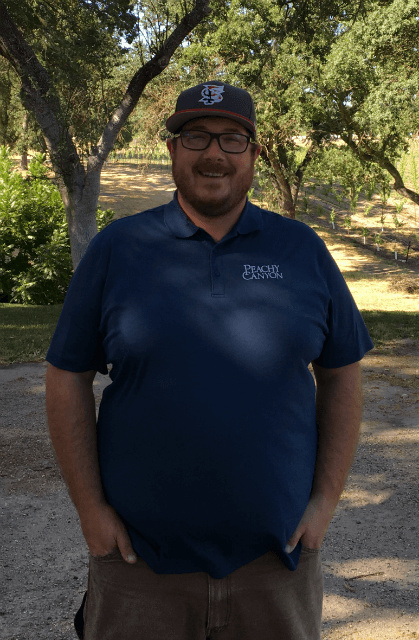 Drew moved out to the West Coast from Connecticut with his family about 15 years ago. "My grandparents had lived in Monterrey for upwards of 30 years before that," Drew said. "They were kind of getting up in years and my dad was an only child. He had worked in Manhattan my whole life. Then, right after 9/11, he was like, 'I've finally had enough,' and moved out West."
Drew followed his family got his start in wine as a retailer when he was 22. He worked in sales for about four years before deciding to go back and get his degree in enology at California State University, Fresno.
"I was like, 'I can get a degree in winemaking? That's really cool!'" Drew said.
He came straight from Fresno to Paso Robles to practice enology after graduating, initially working for Proulx Wines. He added that, initially, it was the area's propensity for Rhone varietals that brought him here, especially its Syrah and Grenache. But he quickly developed an appreciation for its Zinfandel as well.
"I'm kind of psyched to start getting things under a microscope in a little bit here."
Now, Drew's day is full of tests.
"I check on barrels, pull samples, run analysis, and submit work orders," Drew said. "I do everything from standard wet chemistry like pH, TA, alcohols, acidity, and sulphur dioxide. I can do enzymatic analysis of malolactic acid, malic acid, glucose, and fructose … I'm kind of psyched to start getting things under a microscope in a little bit here."
It's a comprehensive process that starts with the chemistry of the grapes and follows them through fermentation and after the wine has been blended. "We have to check the chemistry a lot," Drew said. "You really have to reassess and reassess and reassess."
It's a lot to keep track of, but Drew said it's definitely worth it. "I just think it's fun," he said. "Working in wineries is fun … There's machines, tanks, noise, power pressure washers, this, that, and the other thing. But you're being creative with all this stuff. I'm really enjoying it."
It helps, Drew said, that working at Peachy Canyon in particular has been positive for him.
"Everyone's super nice," he said. "Everyone's cool. Everyone's been excited to meet me and that makes me feel all warm and fuzzy inside."