September 11, 2017 | Winery Blog | Michelle Zaludek
The Axis of Wine with Horizontal and Vertical Tastings
With the wine club shipments always just around the corner, it's easy to (either purposely or accidentally) accrue a backlog of wines.
This is good for a lot of reasons, not the least of which includes the possibility of hosting a vertical or horizontal tasting. It sounds lofty, I know. But both forms of tasting are loads of fun and very informative — and you're drinking wine, so honestly, how bad could it be?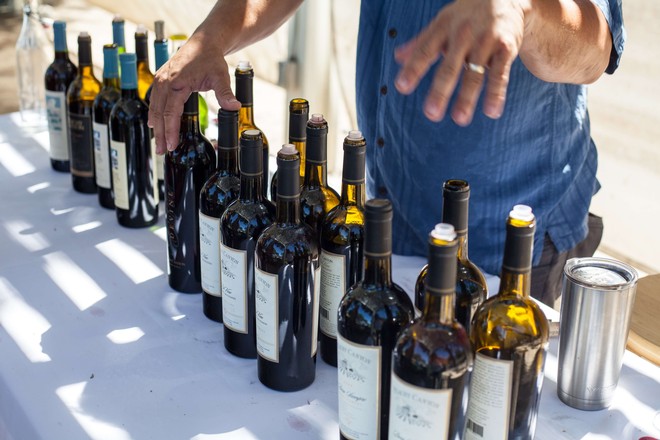 HORIZONTAL
A horizontal tasting would most likely be the easiest to put together on the spot. (And no, it's not tasting wine while lying down. Not officially. Whatever you do in your own home is up to you.)
For a horizontal tasting, start by picking a year. It doesn't really matter which year, so long as you have a couple bottles from it. This will be the vintage that you're studying for the tasting.
This will give you the chance to see how different varietals, wineries, and wine regions did during a certain vintage.
You place other limitations on a horizontal tasting, as well. Maybe you only want to do red wines, or wines from a certain part of the country. Or going even deeper, let's say maybe you want to see how 2010 Zinfandels from the Paso Robles wine region compared.
VERTICAL
Meanwhile, a vertical tasting requires you to pick one winery and taste only their bottles, but from several different years. Ideally, you want the same wine from different vintages. For example, one winery's Syrah from 2005, 2010, and 2015.
It's an opportunity to compare how the winery has changed over the years, and could give you a preview of how your younger wines could shape up in the future.
If you're interested in trying one out, but maybe don't have a set of different vintages, don't be afraid to ask a winery for some help. Some wineries keep library wines from previous years in the back.